Orange County Artist Housing Program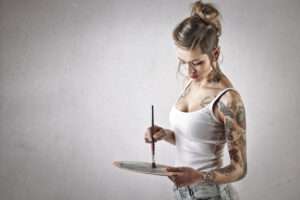 Flower Den has a heart for artists, and we want to help you succeed in your craft. One of our best investments has been property, and we love sharing our space with you. We believe everyone deserves their own palette to paint, and one of our missions is to help artists buy a home.
Our artist housing program is a unique incubator where you'll live at Flower Den for 12 months, while we help you prepare to own your own in home studio at the end of the program. Our blend of business, creativity, and real estate savvy will help you seize the opportunity to truly turn your artistic passion into a part time or full time career that helps you open the door to homeownership.
Skills Flower Den resident artists will learn:
Business basics; like building systems, selling, & accounting
Internet branding; including your own professional website, YouTube, & Instagram
Online marketing; such as Facebook lives, Facebook ads, guest blog posts, & podcasts
AirBnB / vacation rental hosting & management; coordinating cleaners, guests, & events
Credit building & improvement; including seasoned experts to help you pay down & build up
Downpayment savings via our crowdfunding partner Vow2Save; which offers education to buy a home,  graphics to promote to your sphere, and Realtors / lenders in every state.
Requirements to apply for residency:
21 years or older
Income of at least $2000/mo; and at least one year at your job
Credit score of at least 600
Current, or committed to getting on a payment plan with the IRS
Teachable attitude
Ability to dedicate minimum 5 hours a week to building your artist BUSINESS
Personal computer or laptop
We want you to succeed, and we know your talent will take you there, IF you connect with the right people. Our program is designed to help you make those connections, both on and offline. We'll mentor you to build up the backbone to run a secure and solid business for yourself.
Living at Flower Den you'll get to see first hand what it's like to run an in-home art studio. You'll be collaborating with other artists, teaching lessons, and building relationships with trusted tradesmen to help you affordably design your space when the time comes.
Artist Commitment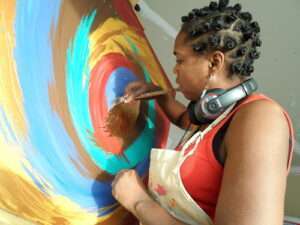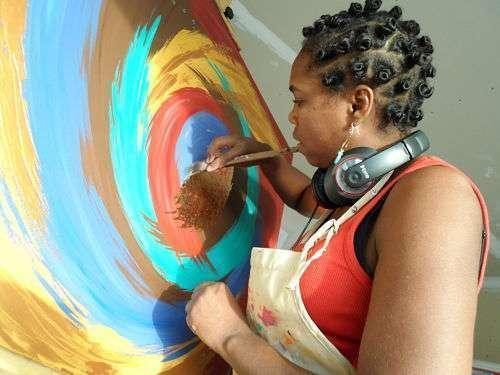 Resident artists agree to use our tools to build their business, while they sharpen their knowledge and artist ability. The program is 12 months, and you will be expected to complete various milestones each month. Each step or task is designed to get you closer to your ultimate goal of homeownership!
We have VERY limited space, so artists who fall behind and are not progressing on their guidelines will be asked to leave. We aren't super strict over here, but unless you have some accountability, you won't be able to run your business properly.
Each resident artist will pay $1500/mo rent; which includes your own bedroom with a balcony, plus utilities. You'll also have access to a full bath, kitchen, parking right in front of the house, and our lovely backyard with pool & jacuzzi.
More importantly, this includes access to our in-home art studio, where you can create and record. Currently we offer torches for glassblowing, kilns for ceramic and glass work, studio ipad, and a clean dry space to create mixed media projects.
Ten (10%) percent of your monthly rent will go back toward your Vow2Save crowdfunding campaign, which we create on month 1, and couple with a lot of your project marketing pieces.
Artists agree to properly track and put fifty (50%) percent of earnings from classes & products sold in Flower Den studio back into your crowdfunding savings. Our program is designed to help you build up your income and down payment savings, not increase your spending habits!
How Our Artist Homeownership Program Works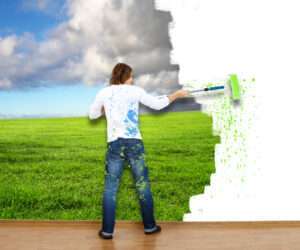 As you progress through the program we'll connect you with the right people to boost you to a 700+ credit score, so you get a better interest rate when you buy. We'll introduce you to honest lenders who can help you get into a property for 3-10% down, depending on where you want to buy, and how well your crowdfunding campaign does.
Once you're off on your own, we'll be there to continue supporting your success by offering collaborative classes, featuring you back as a special guest artist, and promoting any and all retreats you may want to host at our vacation rentals.
It won't be easy.. but it will be rewarding if you take a chance on yourself and apply for our program today. Just fill out the form below to begin designing the life of your dreams!